Complete Story

05/23/2022
Over $23,000 Raised for Sails Up 4 Cancer at the 2022 CT Spring Boat Show
For Immediate Release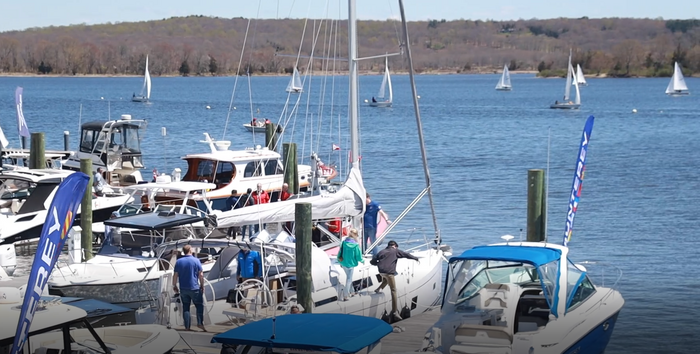 Over $70,000 was raised in conjunction with the Risk Strategies/Gowrie Group, CT River One-Design Regatta presented by Cooper Capital Specialty Salvage
Essex, CT (May 11, 2022) - The 6th Connecticut Spring Boat Show helped to raise over $23,000.00 for Sails Up 4 Cancer over the course of the 3-day event held April 29th-May 1st. This year's event at Safe Harbor Essex Island, located in Essex, CT greeted over 2,400 show attendees. Sails Up 4 Cancer (SU4C), is a non-profit organization supporting cancer care, education, prevention, and research.
"Sails Up 4 Cancer would like to thank everyone for their support and generosity. The coordination of the Boat Show and the Gowrie Group CT River Regatta was a double win for us," said Bob Davis, President, and Founder of Sails Up 4 Cancer. "The combined totals raised from the regatta, the Boat Show, and the auctions will exceed $70,000.00 which is just fantastic."
Sponsoring both the Spring Boat Show and the Gowrie CT River Regatta was marine insurance specialist, Gowrie Group, a Division of Risk Strategies. "We really want to thank the five area sailing clubs who supported the Regatta and the organizers of the CT Spring Boat Show for such a fantastic experience and fundraising success,'' said Carter Gowrie, Gowrie Group President & Founder. "We know how much work went into these events, and to have raised that much money in one weekend is very gratifying and a result that we are all very proud to have supported."
The CT River One-Design Regatta was put on by a collaboration of the Essex, Essex Corinthian, the Pettipaug, Duck Island, and Frostbite Yacht Clubs. The annual CT Spring Boat Show is a production of WindCheck Magazine and is hosted by Safe Harbor Essex Island Marina. 2022 Show sponsors included Hoffman Audi of New London, Essex Boat Works, Essex Steam Train and Riverboat, Risk Strategies/Gowrie Group, the Yacht Brokers Association of America (YBAA), and Pretty Rugged. For updates on the 2023 show, visit www.ctspringboatshow.com.
---