Details

March 25, 2020
24 Broker Tips To Keep You Competitive And Improve Your Success
Presented By: Jeff Merrill, CPYB
Jeff Merrill, CPYB presented a version of this talk in January to CPYB members. It was very well received and we asked Jeff to provide an encore webinar for YBAA.
Jeff Merrill, CPYB, founded his JMYS yacht brokerage in 2014 after working for over twenty years in boat building and sales (7 years at cruising sailboat builder Pacific Seacraft, then 14 years at trawler builder PAE/Nordhavn). Jeff earned his CPYB credential in 2012 and has Employing Broker status in both California and Florida, one of the first to hold all three Yacht Broker designations. He was president of the CYBA for two years in 2015 and 2016 and in 2019 joined the CPYB Advisory Council (CAC).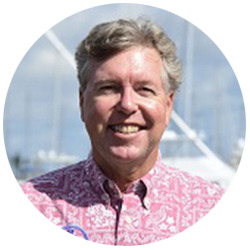 "Jeff Merrill's e-Seminar is a great refresher for the professional yacht broker. His presentation is excellent and you are guaranteed to learn some new skills".
Michael Myers, CPYB, Boston Yacht Sales
"Jeff Merrill's e-Seminar was one of the best I have ever attended, it was like how to become a successful yacht broker in 45 minutes. Excellent content that any broker, regardless of experience level, can benefit from".
Don Finkle, CPYB, RCR Yachts
2020-03-25
2020-03-25
America/Detroit
24 Broker Tips To Keep You Competitive And Improve Your Success
Jeff Merrill, CPYB presented a version of this talk in January to CPYB members.  It was very well received and we asked Jeff to provide an encore webinar for YBAA. Jeff Merrill, CPYB, founded his JMYS yacht brokerage in 2014 after working for over twenty years in boat building and sales (7 years at cruising sailboat builder Pacific Seacraft, then 14 years at trawler builder PAE/Nordhavn). Jeff earned his CPYB credential in 2012 and has Employing Broker status in both California and Florida, one of the first to hold all three Yacht Broker designations. He was president of the CYBA for two years in 2015 and 2016 and in 2019 joined the CPYB Advisory Council (CAC). Register Now "Jeff Merrill's e-Seminar is a great refresher for the professional yacht broker. His presentation is excellent and you are guaranteed to learn some new skills". Michael Myers, CPYB, Boston Yacht Sales "Jeff Merrill's e-Seminar was one of the best I have ever attended, it was like how to become a successful yacht broker in 45 minutes.  Excellent content that any broker, regardless of experience level, can benefit from". Don Finkle, CPYB, RCR Yachts
----
---