---
YBAA is pleased to offer sponsorship packages to members that include year-round promotions on the YBAA website, newsletter, social media, education initiatives, and more. Support YBAA and help facilitate YBAA's dedication to assisting members in improving their professional competencies and enhancing their business success through training, education, and information resources. There are several levels to fit every budget.
Review the Sponsorship & Advertising Kit for more details on how to promote your company.
---
Industry News
---
By: JP Skov, CPYB, Executive Director, YBAA
I was recently invited to do a presentation on the relationship between yacht brokers and marine surveyors. The idea sounded simple, how can a surveyor and a yacht broker work together to keep the customer happy? My gut reaction was to focus on communication. By improving communication and foster transparency there should be no surprises along the way, easy enough.
---
Overall retail purchases have fallen in three of the past four months. Spending on services is flat. Sales of existing homes hit their lowest level since 2014, and the auto industry just posted its worst sales year in more than a decade. Getting face-to-face access to big boat show audiences could be the make-it-or-break-it move for 2023.
---

Do you know the answer?
Learn about this and many other topics with The Guide Online! Access this important reference and learning system any day, any time from a computer or mobile browser. The Guide Online is an online learning management system, accessible 24/7. Virtually learn from all five modules at your own pace or access pertinent information in a timely manner.
---
Upcoming Events
---
April 19, 2023 | 2:00–3:00 PM ET | CPYB CE: 1 Hour
Presenter: CYBA with Jeff Merrill, CPYB
Jeff will share some suggestions about what you can you do for your buyer and/or seller before, during and after the survey, trial run, haul out, etc. to improve your chances for a successful outcome.
Save The Date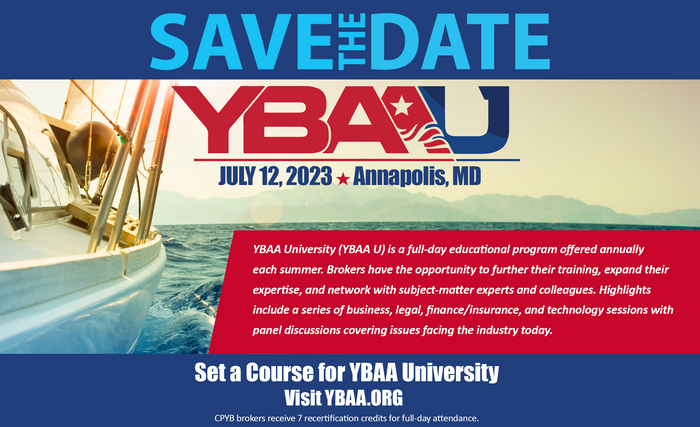 ---
SAVE THE DATE
2023 CPYB Exam Prep Dates
Any CPYB candidate (or CPYB certified member) is invited to participate in an exam prep session. In these two-hour sessions, the instructor covers key topics under each of the five Principal Knowledge categories candidates will encounter on the exam. The CPYB exam is online and can be taken anywhere, anytime. It consists of 145 multiple-choice questions. Each question is linked to at least one of the Principal Knowledge Categories/Topics.
June 13, 2023 —

Virtual


11:00 AM – 1:00 PM (ET)

September 12, 2023 —

Virtual


11:00 AM – 1:00 PM (ET)

December 12, 2023 —

Virtual


11:00 AM – 1:00 PM (ET)
---

With collective member participation, the YBAA Member Listing Service (MLS) provides increased exposure for the listing broker and access to a broader range of inventory. The MLS allows brokers access to cooperative broker listings with the goal of connecting buyers and sellers.
As an exclusive benefit, YBAA members can publish a listing at no cost.
| | |
| --- | --- |
| First Time User? | Already Using yachtbroker.org? |
| | |
---
Sales Tips
---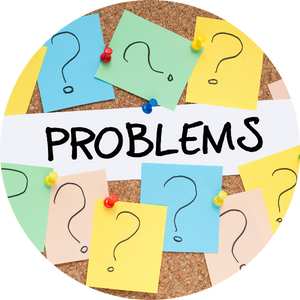 Recently I met with a new sales rep who's been in sales for a little over six months. He's made two sales; he should be closer to 30. I started by asking how many sales calls he's been making, how many proposals he's presented, what he's been saying, and what his overall process has been. It didn't take long to identify his problem.
---
Member News
---
Brewer Yacht Sales Proudly
Announces Additional Yacht Brokers
Brewer Yacht Sales proudly announces additional yacht brokers for our South Carolina and Florida offices. Dale Kirby is a seasoned yacht broker who will serve Brewer Yacht Sales clients in our Port Royal, South Carolina office. Kevin Crofton and Bill Hall also recently joined Brewer Yacht Sales, serving boaters on Florida's East Coast. Kevin and Bill enjoy successful careers in real estate, which dovetailed perfectly into the yacht brokerage business.
Do you want to share news about recent sales, new hires, office expansion or other business updates and successes for
FREE
! Just send your news items by the 10th of the month along with any photos to
jpskov@ybaa.yachts
for further consideration.
---
Renew Your Dues
YBAA offers many invaluable benefits to its members including conferences, networking, and discounts on business services. Click the EZRenew button to continue being a part of this thriving community.

---
Don't Miss Out on the Conversation
Keep the discussion going by engaging with us on social media.