CPYB Spotlight

The Certified Professional Yacht Broker (CPYB) Council held its annual meeting last week.
We are thrilled to see that they have in store for 2022! Click here to learn
more about the CPYB program.
---
Sales Tips w/ John Chapin


Increase Sales by Getting Back to Basics
The greatest in any field of endeavor has always been great at the basics. Vince Lombardi, the great Green Bay Packers coach, said football comes down to two things: blocking on offense and tackling on defense, and his great Packer teams spent 80% of their time on those in practice. Red Auerbach, who coached the Boston Celtics to eight consecutive championships, had his players practice free throws and shots from very short distances over and over again. Read More
---
Members News
Established TEN-YEAR Brokerage Offered For Sale


Gulf South Yacht Sales, LLC
Located on the beautiful NORTH SHORE OF NEW ORLEANS, LOUISIANA
(Mandeville, Madisonville, Covington and Mississippi Gulf Coast)
Offered at $400,000
Annual Income 2020: $112,360
Annual Income 2021 year to date $142,499
Contact: Owners, Pud'n & Jerry Waller
985-807-2628
gulfsouthyachtsales@gmail.com for more info.
Website: www.gulfsouthyachtsales.com
---
Industry News
Brewer Yacht Sales is proud to announce the
opening of its second South Carolina Location
Brewer Yacht Sales is proud to announce the opening of its second South Carolina location at Charleston, inside Safe Harbor's Charleston City Marina. "We are excited to grow our network of buyers & sellers by expanding in the Charleston area; we look forward to fostering new relationships and maintaining those built by our broker Sean Kelly, who will be moving from the Port Royal office to our Charleston location. Sean has a long and successful history of new and brokerage sales in the Charleston area" says Hal Slater, CPYB, President of Brewer Yacht Sales. Read More
---
It's Time to Renew Your Dues

YBAA offers many invaluable benefits to its members including conferences, networking, and discounts on business services. Click the EZRenew button to continue being a part of this thriving community.

---
Share Your Company News with YBAA
Do you want to share news about recent sales, new hires, office expansion, or other business updates and successes for FREE? Just send your news items by the first of the month along with any photos to marketing@ybaa.yachts.
---
---

Upcoming CPYB Testing & Exam Days:
Register for exam prep sessions offered the morning of the CPYB Testing dates.

Continuing education and professional development are essential for Yacht Sales Professionals to perform their job at the highest possible level. Certified Professional Yacht Brokers (CPYB) are required to earn a minimum of 21 credit hours of continuing education/professional development every three years.
| | |
| --- | --- |
| View the | |
---
There Is Still Time to Advertise with YBAA for 2021
Reserve Your Package Today!
| | |
| --- | --- |
| Increase your visibility with YBAA sponsorship and advertising packages! These packages include year-round promotions on the YBAA website, newsletter, social media, education initiatives, and more. It's an investment that can create new opportunities for you all year long. | |
---
Don't Miss Out on the Conversation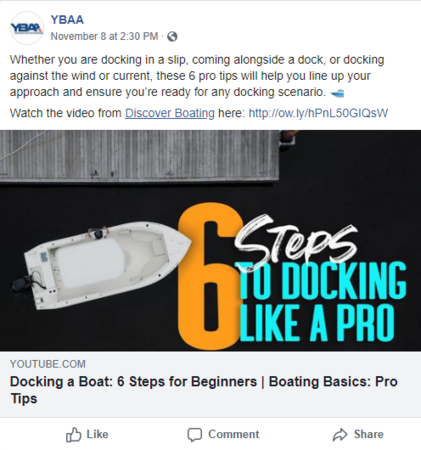 Keep the discussion going by engaging
with us on social media.